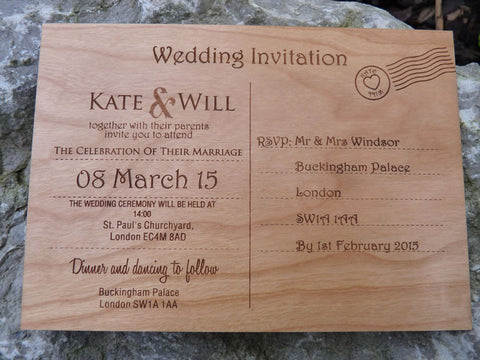 This is our lovely wooden Postcard wedding invitation that will leave your guests amazed and impressed with the quality and uniqueness of your wedding invitation.
The wedding details are engraved into the wedding invitation.
The are customisable to your own requirements and as a bespoke product we can make slight alterations to it to fit into what you would like and can be used for Wedding Invitations or for Evening Invitations (or a mix of the both).
*** A single un-personalised invite can be purchased as a sample and then a minimum order for personalised wooden invites is 10, orders below this can not be processed. ***
The Postcard wooden wedding invitation measures the same size as a standard postcard, but is made out of a lovely cherry wood that is 3.2mm in thickness, making it extremely sturdy and gives an extremely classy look and feel to it.
As wood is a natural product there can be some small natural marks in the grain of the wood, these are just part of what give our products the extra character and charm that they have. We do always try to keep any larger marks and knots off our products though.
The price listed is the price for all invitations having the same details on them and not all individually customised.
If you wish each invitation to have custom personalisation then please contact us so we can work out the price for doing this before you order to avoid any dissapointment.