Free delivery
All orders posted FREE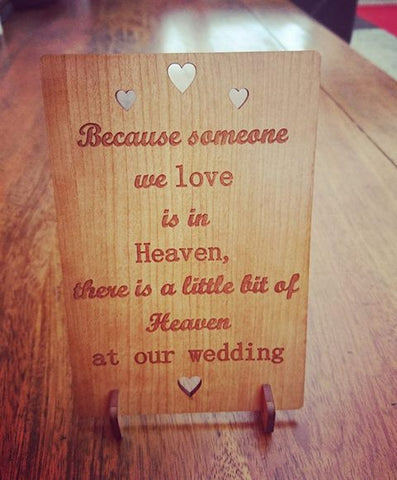 "Because someone we love is in heaven there is a little bit of heaven at our wedding"
This wooden wedding sign has the messaged engraved into the wood and it will act as a lovely reminder on a wedding day of anyone who has sadly passed away and is in heaven so can't be with you in person on your wedding day.
These important people you still want to make a part of your wedding day and so with this sign you can show that you are remembering them and know that they are there watching over you from heaven.
Wedding days are emotional times and not having everyone you want there because they may have died is tough, you will possibly find a bit of comfort having this sign there as a reminder to everyone that they are not forgotten even thought they can't be there with you.
The wooden sign measures 15cm x 10cm and is 3.2mm thick with the wording engraved into the wood.