Free delivery
All orders posted FREE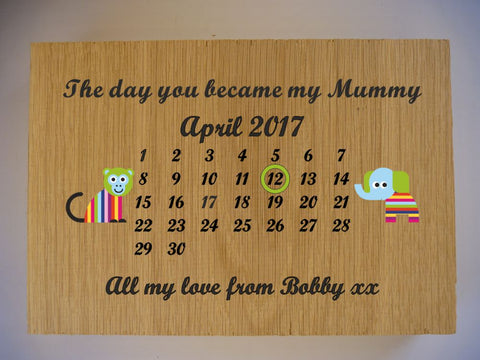 The day you became my Mummy Oak sign gift. The solid oak sign is colour printed with the calendar date of the birth with the day circled. At the top it reads "The day you became my Mummy" (this can also be done for "Daddy" or other occasions) and then at the bottom is a space for a short message such as who it is from with a "Love you" message.
There is a colourful monkey and colourful elephant images also printed onto the oak sign too.
This is a lovely gift for any Mum to receive as a gift from their baby/child to mark the special date that she became a Mummy.
The oak sign measures 20cm x 14cm and is 2.5cm thick meaning that it will stand nicely on a shelf or table wherever you want to display it.
These make a lovely gift for any Mummy on the birth of their baby, on Mother's Day, Mums birthday or even Christmas.