Free delivery
All orders posted FREE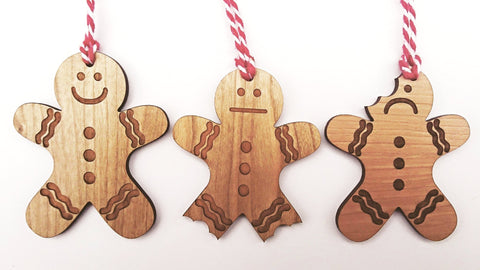 This fun set of Gingerbread Man Christmas decorations will make everyone smile when they see them on your Christmas tree.
The set of 3 decorations comes with one happy Gingerbread man fully intact, then you have one unsure Gingerbread man who has had his legs bitten off and then you have a very worried Gingerbread man with half of his head with a big bite in it.
These lovely fun Christmas tree decorations take the traditional Gingerbread Man and make it all a bit fun. They measure approximately 7cm x 5.7cm and 3.2mm thick (the one with his missing legs a bit shorter as to be expected...).
The decorations are made out of a Cherry wood veneer with the detail engraved into the Gingerbread Men tree decorations. They also come supplied with a festive red and white twine for hanging them up.