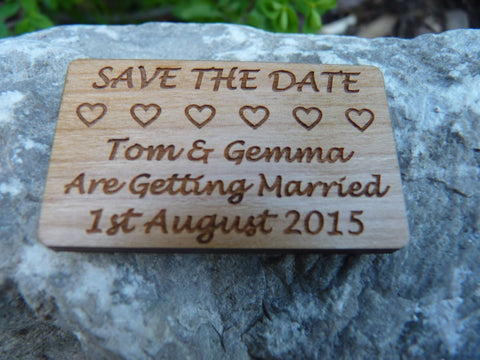 Don't have your wedding day double booked, send out "Save The Date" reminders to your guests so they can make sure they are able to attend your wedding.
This design of the Save The Date have a row of hearts going across the wooden Save The Date to help show what the special occasion is about.
The fridge magnets are made out of a lovely 3mm cherry wood and measure 5cm x 3cm and they have a magnet attached to th back so they are ready for your guests to stick straight onto their fridge so they don;t forget to "Save The Date" for you.
When ordering, please include the wedding date (or party date), the name(s) and the line for under the names (e.g. "Are Getting Married")
Please note that we can alter the Save The Dates for any occasion and we can also change the layout and working slightly if required, please contact us about this as it should be no problem making them bespoke to your needs.