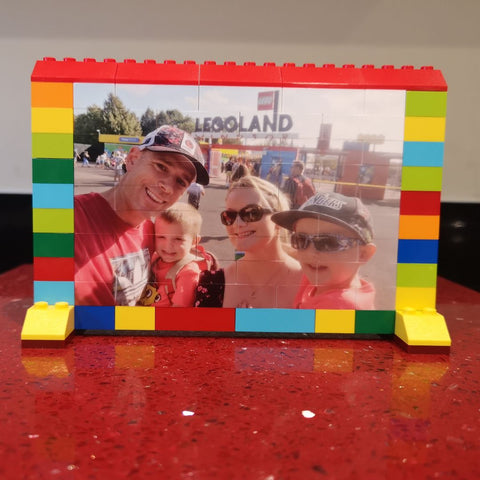 Only -4 left!
Personalised Lego Photo Frame
£24.99
Brand Personalised Gifts
This product is unavailable
Personalised Lego Photo Frame. Your own picture is printed directly onto the Lego bricks (approximately a 6" x 4" picture size) and then framed with Lego bricks all around the picture.
This is a truly unique gift for any Lego fan out there or anyone who loves to build with mini bricks.
The frame will stand freely as a standalone picture frame.
The overall size of the personalised Lego photo frame is 16cm x 11cm.
The Lego picture and frame come built up but it can be dismantled and re-built. If you wish you could even build your own or add to the existing Lego frame with your own bricks or incorporate it into a larger Lego build you may be doing.
After ordering we will be in contact for you to email us the picture you would like printing on it. On launch this is currently a horizontal picture that is in an aspect ratio of around 3:2. We will then alter the size of the image and crop it to fit the printable area of the frame.
We print your picture on genuine Lego bricks. The colour of the surrounding bricks will vary but we will use a mix of different colour Lego bricks around the edge, for any special requirements please contact us.