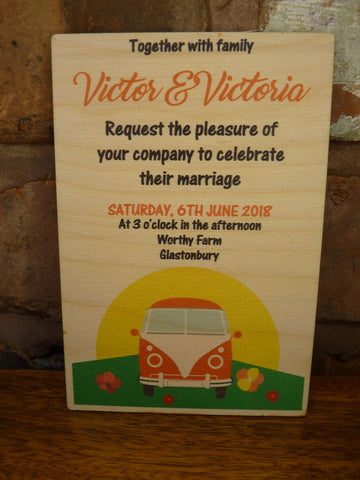 Campervan wedding invitations colour printed onto wood. These fabulous wooden invitations have a great VW Campervan themed design which is great for anyone who is having a VW Camper as part of their wedding day.
You can choose the colour that you want the campervan to be to help it fit in more with the theme and style of your wedding.
The split screen campervan is an iconic design and is set in a some green grass with flowers and a large sun behind (we can remove the grass and the sun if required if you only want the campervan to be printed.
The wooden invitations are professionally printed on in full colour and measure 14cm x 9.5cm and 3mm thick. They really are something different and very unique.
We can print wedding information on both sides of the invitations if required and if you wish the reverse can even have magnets added so that they can be stuck to your guests fridges.
Anyone after ordering the wooden VW Campervan themed wedding invitations should contact us with your requirements to get a quote for what you require. Please contact us here
The purchase price on this listing is just for a stock designed invitation and not the purchase price for a personalised wooden wedding invitation.